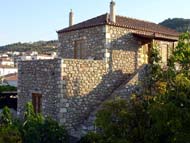 "Ayoclima" (honeysuckle) is a big, stone-made, self-catering Spetses villa of Greek traditional character and unique architectural elements. Ayoclima consists of a three-storey building facing northeast, including "Daphne", "Myrtia" and "Ambelos" residences, and of a cosy independent cottage named "Elia".
The villa's beautiful surroundings offer a peaceful and cool environment, although situated in the heart of Spetses town. Harmony, good taste, respect for traditional techniques and great care for detail are the main characteristics of the villa. Lovers of authenticity will feel comfortable surrounded by antiques and collectors' items and will appreciate the warmth that they convey.

The garden is typically Mediterranean with lemon, orange and mandarin trees next to olive, cypress and jacaranda trees. Honeysuckles, jasmines, roses, night flowers together with bougainvilleas and other colourful plants, spread their perfumes and enhance the beauty of the stone. Between the cottage and a cool vine-arbour one finds a small organic vegetable garden surrounded by beautiful basilics, thyme and other Greek herbs.


"Ayoclima" has a total capacity of 16 guests including room, if needed, for a house keeper or nanny, who can reside in an independent studio, named "Rodia". This has a kitchenette and bathroom and is therefore also ideal for a lone traveller. Two extra guests could also be accommodated on couches.
The villa can be rented in its entirety for a large group of friends, or the residences can be rented separately for couples, families or friends.